Some of the happy band of picnickers in Taymount Wood
What has WSWG been doing this month?
En route, we recorded the flowering plant species along the verges. We identified a total of 78 flowering plants, plus 21 tree, shrub and other plant species. In itself, the number and abundance of wildflowers proved the value of the gorse mulch raking work WSWG volunteers have done this year, while bare patches highlighted the severe suppression of vegetation where no raking has yet taken place and the gorse mulch has capped to form an impenetrable layer. We also recorded incidental sightings of birds, amphibians and insects. So many tiny juvenile toads (and a few frogs) all over the place and a wonderful array of butterflies, beetles, hoverflies, damselflies, dragonflies and bees, some of which have made it into the images below. From our observations on the walk, we contributed records to Tayside Biodiversity Partnership's Mini Bioblitz for common carder bumble bee, ragged robin and ox-eye daisy, three of the top ten target species in this survey. (Harebell will be added as another target species which is to be found on verges in the wood, just not seen on the route we took that day.) A small group of us branched off to do some gorse raking along the forest tracks and then, for those who could stay on longer, we spent a further hour or so protecting naturally regenerated oak and rowan saplings from deer browsing with tree tubes. Thank you to everyone for a thoroughly enjoyable and engaging afternoon.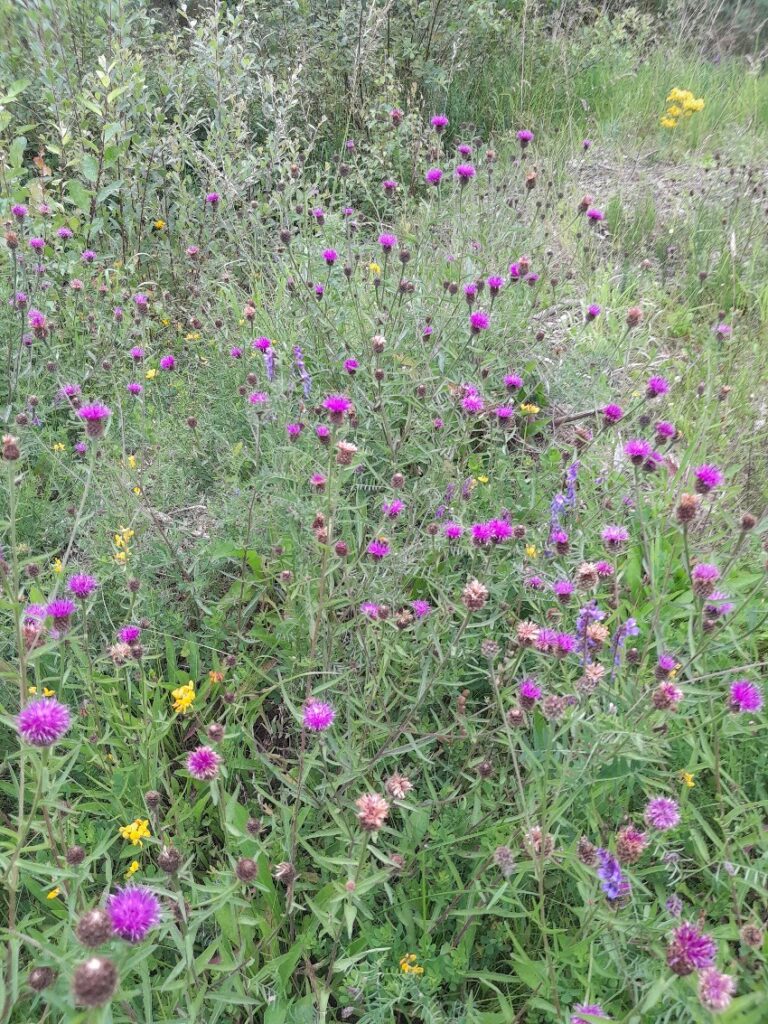 Verges in Taymount Wood in July where gorse debris has not been raked off
The photographs below are a selection from WSWG Wildflowers PhotosByFrancoise taken during the picnic walk, for which many thanks.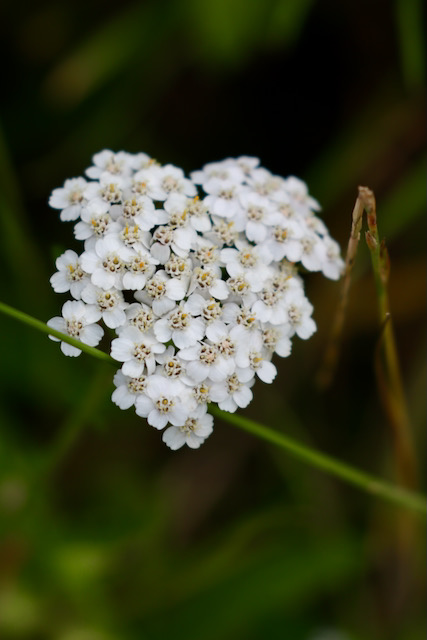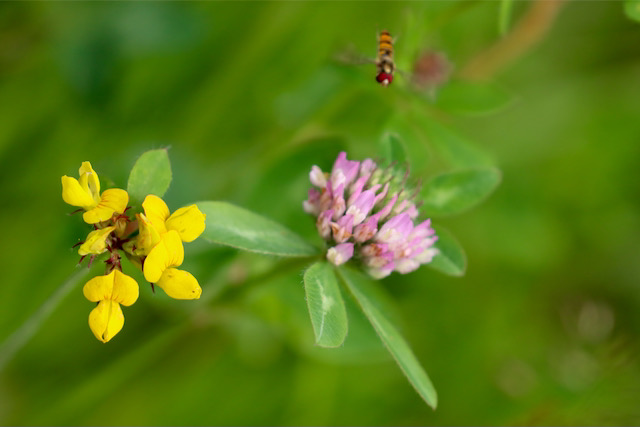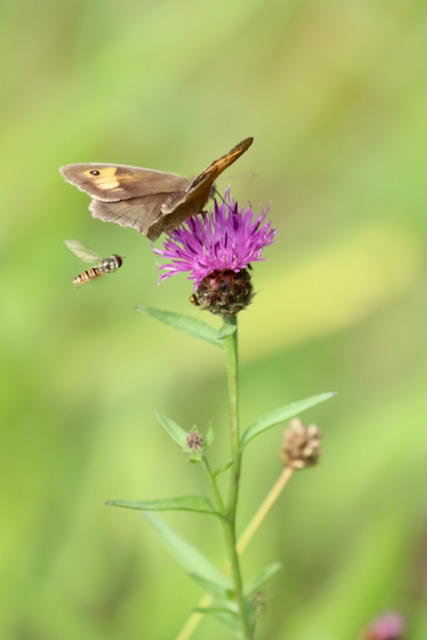 There are still a couple of days left for you to participate in the TBP Mini Bioblitz which runs until 13 August. Look here to see if your village is one of the participating communities – Biodiversity Village Communities Mini Bioblitz · iNaturalist then sign up to iNaturalist here https://uk.inaturalist.org/signup to be able to record your sightings.
WSWG has continued its involvement in the PKC Big Place Conversation underway in Highland and Strathtay during July and August, including the in-person discussion at Birnam Arts on 5 August. We're keen to see WSWG and West Stormont Connect be part of future planning for the area. There are further in-person conversations in Pitlochry and Aberfeldy on 19 and 26 August respectively. Find out more here: www.pkc.gov.uk/www.pkc.gov.uk/article/23023/Big-Place-Conversation-Highland-Events You can do the on-line survey until 31 August: www.pkc.gov.uk/bigplaceconversation
We had a further very useful meeting with Forestry and Land Scotland on 24 July and through the Third Sector Interface Perth and Kinross have also met with the Business Gateway Perth and Kinross, FirstPort and the PKC CATS officer. We have also met again with the Perth and Kinross Health and Social Care Partnership during a drop-in at Bankfoot Church Centre consulting on what health and wellbeing services local people want going forward. We see great opportunity for WSWG and HSCP working together for community benefit under the Healthy Living theme of WSWG's Window on the Woods Vision.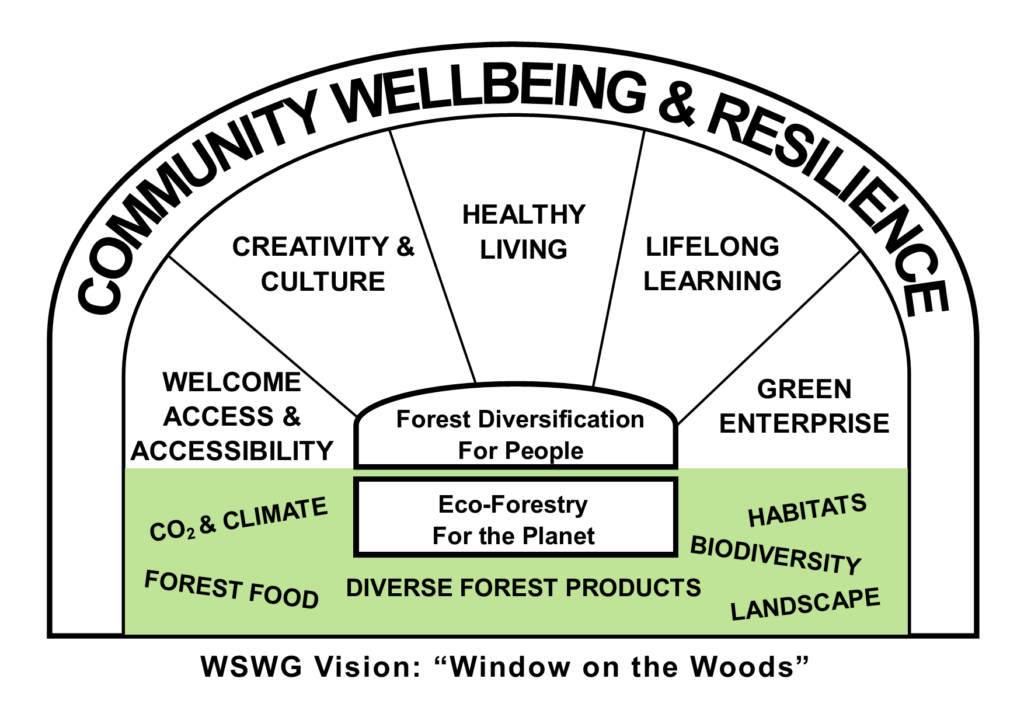 Our recent application to the Gannochy Trust for a capital contribution towards the purchase of Taymount Wood was unsuccessful, but the Trust has encouraged us to apply for funding towards our operational start-up costs.
Word of the Month
Wild angelica: Angelica sylvestris or wild angelica is a species of flowering plant native to Europe and central Asia. Described variously as an annual, biennial or short-lived perennial, growing to a maximum of 2.5 metres (8.2 ft), it has erect purplish stems and rounded umbels of minuscule white or pale pink flowers in mid to late summer which provide a valuable feeding source for a wide range of insect species. Wild and garden varieties of angelica have a long history of medicinal, culinary and dyeing uses. Angelica is common in Taymount and Five Mile Woods and has no reported toxicity to birds, cats, dogs, horses, livestock or people. Please do not confuse it with giant hogweed which is toxic but is not present in Taymount or Five Mile Woods. (Sources: Wikipedia, Gardeners' World, Naturescape.)
What's coming up next?
We are planning some more gorse mulch raking sessions in Taymount and/or Five Mile Wood after the summer holidays – dates tbc soon.
Monday 25 September 7.30pm Stanley Village Hall: talk by Christopher Dingwall on history of Taymount & Five Mile Woods; Wednesday 27 September 11am: guided walk in Taymount Wood with Christopher and WSWG.