West Stormont Woodland Group is a Scottish Charitable Incorporated Organisation (SCIO) formed with the specific aim of bringing Taymount Wood and Five Mile Wood into Community Ownership.
We are really thrilled to let you know that, on 31st October 2023, Forestry and Land Scotland (FLS) approved WSWG's Revised Wildwood Proposal and Business Plan for Taymount Wood. This is the first big goal achieved in our Community Asset Transfer Process to bring Taymount and Five Mile Woods into community ownership! More soon!
West Stormont was the name used in medieval times to cover the parishes of Auchtergaven, Kinclaven, Logiealmond, Moneydie, Redgorton (Stanley) and the Murthly portion of Little Dunkeld.
West Stormont has been chosen as the most suitably inclusive title for the many communities connected to Taymount and Five Mile Woods today.
The overarching WSWG Vision is:
"Community Wellbeing and Resilience through Eco-forestry for the Planet and Forest Diversification for People."
Please Support Us with a Donation
Whilst Membership of West Stormont Woodland Group is FREE and always will be, fundraising is a major objective in our journey to bring this woodland under community ownership. Please consider making a donation, however small, to keep our bid process on track. Thank you. 
What People Feel About the Woods
Join Us - It's FREE and will help us bring Taymount and Five Mile Woods into Community Ownership
West Stormont Woodland Group Area
Membership of West Stormont Woodland Group shows that you support what we are trying to achieve and Community Support for the project is fundamental to its success.
To become a member please fill out the form by clicking on the 'Please Join Us' button and we will keep you up to speed with developments.
If you live in the West Stormont area – Bankfoot, Stanley, Murthly, Kinclaven, Luncarty, Redgorton, Moneydie, Pitcairngreen, Logiealmond, Glenalmond, Waterloo, Dunkeld, Birnam, Caputh, Spittalfield – then you can become an Ordinary Member.
If you live outside this area please show your support by becoming an Associate.
Our Aims and Ambitions including Our 25 Year Mission
"To achieve significant progress towards a thriving community living in a sustainable, healthy and enjoyable landscape in eastern Strathtay centred on the two rapidly naturalising Taymount Wood and Five Mile Wood. Substantially enhanced landscape ecology, improved and integrated access provision and a boosted local wellbeing economy."
West Stormont Woodland Group, WSWG, is seeking transformational change to address our climate and ecological emergencies, allowing the community to be the best it can be through careful management and long-term ownership of the woodlands.
Many other communities have been successful in similar projects. With your help, we can also succeed.
Ecoforestry for the Planet
We want to naturalise the woods. We aim to do this through a positive management approach – "Ecoforestry" – an even more ecological style of management than the current Low Impact Silvicultural System (LISS) operated by Forestry and Land Scotland, which will purposefully allow each woodland to grow to maturity and achieve its full ecological potential. 
It is a nature-based solution whereby existing woodlands are protected as intact ecosystems to foster continuous growth for maximal carbon storage and ecological and structural complexity. It is a powerful and immediate strategy that can address the global crises in climate and biodiversity.
Forest Diversification for People
We are also seeking to manage the woodlands for community wellbeing under the following five headings:
We aim to do this by undertaking improvements, providing new facilities in both woods, and by offering an ongoing, year-round programme of activities across these themes.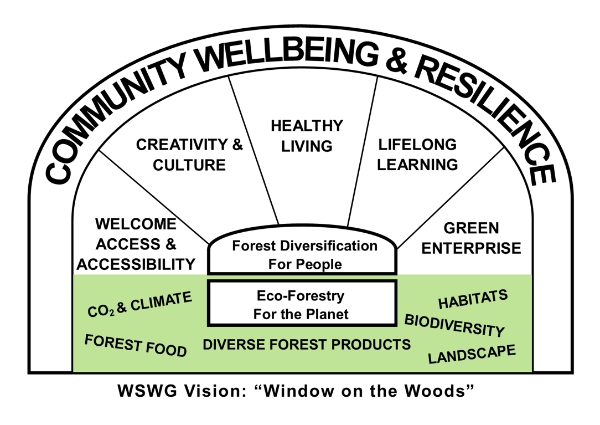 Beyond The Woods - 'The Bigger Picture'
The West Stormont Woods are not alone. They stand in a landscape of farms, fields, myres, highways, animal and human activities. Our disparate communities do not exist alone. They are linked by physical routes, shared history – and perhaps shared dreams. We – humans – are not alone. We are part of an intricately-connected ecosystem and, yes, we are part of it – not above it or separate.
Taking woods into community use and management isn't an aim that stands alone. It is part of a dream of a more sustainable future, where we can meet the challenges of climate and ecological emergencies more effectively by acting with determination and vision as joined-up communities.
Read more about the landscape-scale vision of West Stormont Connect, going into the future…