Scientific research has consistently linked increases in physical and mental health of patients in hospitals with the presence of flowers in their recovery rooms. Patients show reduced stress markers, blood pressure and even a reduced need for pain killers when they have flowers in their rooms. So profound is this link, that simply gazing upon a photograph of flowers can result in measurable health benefits. Studies have also found people to be in happier moods at the dinner table when flowers are present.
A date for your diary
April 5th (National Dandelion Day). So eagerly awaited after the long cold winter, the dandelion – the herald of spring, so beloved by bees – even has its own day named after it. Its intrinsic beauty, nutritional and medicinal benefits are legendary the world over, despite the efforts of the chemical industry to brainwash society into buying their toxic herbicides to kill these so called "weeds".
August is one of those months that seems to leave us both exhilarated with nature's final flower show of the summer, while at the same time leave us with a feeling of regret as the realisation dawns that summer is coming to an end. It is now that the vibrant purple hues of the stunning (and ill-named) black knapweed and thistles are as noticeable for their beauty as they are for the clouds of butterflies and bees they attract.
Flower Power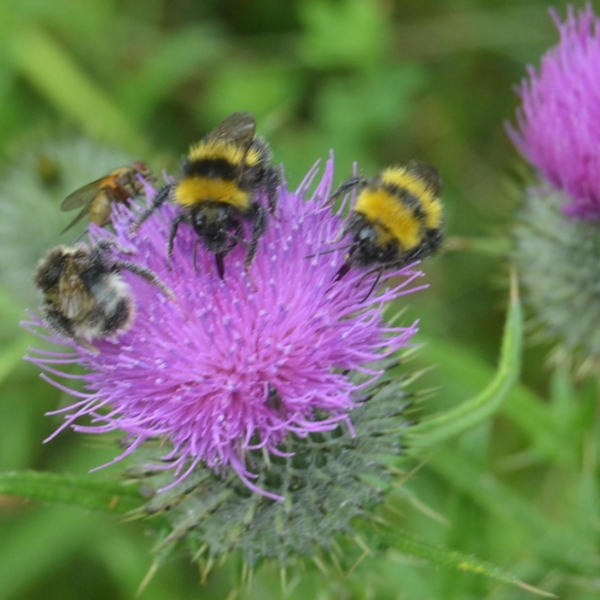 Scientists are increasingly discovering ways in which flowers communicate to insects. The dazzling array of colours, forms and perfumed scents that flowers have adapted to attract insects are impressive enough. However, recent research has found they also communicate with insects by using subtle electrical fields. The flowers are thought to be able to inform bees of their pollen and nectar resource status by altering their energy signatures which the bees can detect.
The study carried out by the University of Bristol found that bumble bees in particular were adept at deciphering the electrical changes of different flower species.
Wild Rose
Few flowers have inspired writers, poets and romantics more than the rose. The wild rose has even been credited with fostering the ancient oak forests throughout millennia as its thorny embrace afforded natural protection against herbivores for young sprouting oak trees – cached by jays and squirrels. The famous Hildesheim Rose, which climbs against a wall of Hildesheim Cathedral in Germany, dates back to the establishment of the diocese in 815.
Their beautiful velveteen petals have seen notable mention throughout history. Cleopatra was known to have her servants adorn her bed in fresh rose petals every day, believing them an aphrodisiac. The Chinese Empress Wu Zetian, famed for her intelligence and beauty, used to bath in roses every day. In Greek mythology, roses were created by Aphrodite, the Goddess of Love. It is of little wonder the rose – both wild and cultivar – is the flower of choice at weddings and romantic meetings between couples. Their perfumed scent and medicinal properties have found their way into a myriad of health and beauty products the world over.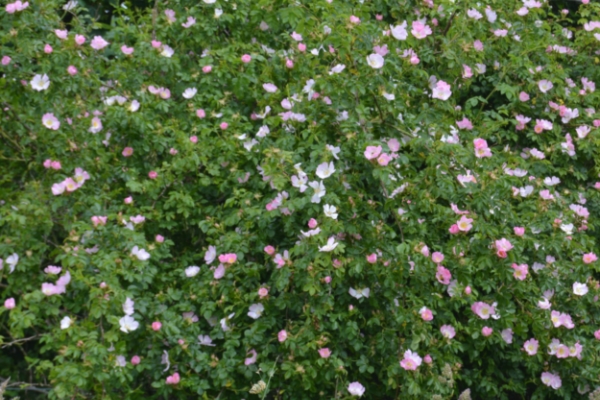 When hay meadows were hand cut, the men would routinely stop and collect "bee bread"as they worked. The "bread" referring to the food stores of bumble bees in their nests. Sadly however, those wild flower meadows have been eradicated by over 97% since the 1930s. Our woodland flowers have suffered similar declines, although for different reasons. The WSWG woodland management plan will ensure wild flower restoration is a priority and incorporated into our Nature Recovery action plan.