Thanks to pioneering research carried out over the last 30 years by Canadian ecologist, Suzanne Simard, we now know that trees and fungi have a sophisticated and complex social network system, whereby resources and wisdom are shared across vast distances via infinite biological pathways within the fungi mycelium networks. She discovered that fir trees sent carbon to birch when their leaves were bare in winter but the birch would send carbon back to the fir when the fir was shaded in summer, and so on.
Trees were able to recognise their own saplings far in the distance and send them nutrients via the fungi networks.
She discovered that the trees determined what nutrients they needed and how much by sending hormonal and chemical signals via the fungi mycelium. Some even send messages with energy frequency. They literally speak with each other and with the fungi networks to maximise the efficient use of water, carbon, nitrogen, phosphorus and so on. This woodland economy is based upon reciprocity – the mutual exchange of resources for the common good. (Maybe we should be taking notes!) The fungi themselves trade nutrients to trees in exchange for carbon. Indeed, so efficient are they at carbon storage, the question must be asked –
Can fungi help to cool the planet?
We know from studies that fungi-rich soils can store over 70% more carbon than fungi-deplete soils. Many of our soils now have between 1-5% of the fungi they had 100 years ago.
When we consider that mycorrhizal fungi help sequester around 5 billion tonnes of carbon annually, wouldn't it make sense to incorporate this incredible natural solution into our agricultural and forestry systems and, in particular, to facilitate the regeneration of the billions of hectares of man-made deserts and wastelands around the world. Such a paradigm shift in land use would massively increase the restoration of the Earth's Soil Carbon Sponge. This would significantly increase rates of transpiration from forests and grasslands into the upper atmosphere to help cool the planet via the Earth's hydrological cycle, which is still responsible for around 95% of the heat dynamics of the planet.
The benefits of fungi for young trees are so profound that some ecologists are calling on the UK governments to adapt the forestry grants systems to ensure nursery-grown tree saplings are inoculated with mycorrhizal fungi before they are planted in the wild. It's thought that this will significantly increase carbon sequestration rates, save millions of trees from dying from drought, shock, nutrient loss and so on, and save many landowners having to pay back hundreds of thousands of pounds from failed planting schemes. Especially those on the nutrient depleted uplands.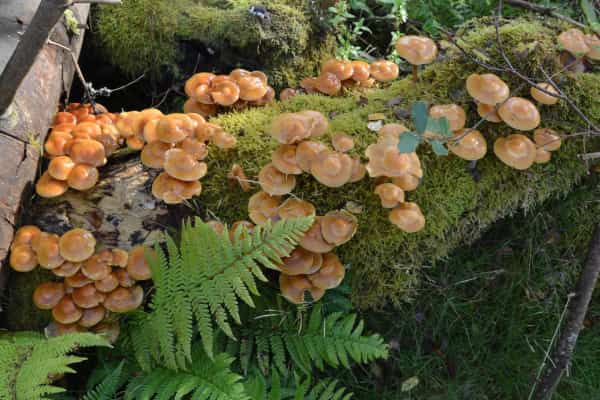 More Fantastic Fungi solutions
The Plastic Scourge: A fungus species has been discovered on rubbish dumps in Pakistan and Ecuador that can devour and break down plastic.
An alternative to leather: Companies such as Myco Works are showing how a change from animal skins to fungi-based leather is sustainable, cruelty free and with no rainforest destruction required. Their fine mycelium fungi products include clothing and car interiors.
Biodegradable packaging: IKEA is one company that is switching to fungi-based packaging which uses less energy and biodegrades within weeks, in sharp contrast to plastic packaging.
Water pollution: Renowned fungi expert and author, Paul Stamets, has shown that fungi grown in beds of wood chips could remove virtually all pollutants from livestock-related agricultural run-off.
Food Security: Research has shown that pollinating bees that were fed certain species of fungi had greater survival rates against viral and bacterial infections. It has also been estimated that around 95% of plant species host some form of mycorrhizal fungi on their roots. Some soil scientists are now demanding we harness the potential of this symbiotic relationship to boost food production. Instead of which, in our food production system, we are still widely using insecticides and fungicides which kill bees and fungi.
Medicinal: Some species of fungi have been used for thousands of years for their medicinal properties. Today, fungi are being used to good effect in the production of statins, cancer treatments, anti-viral and anti-bacterials amongst many other uses.