The buck will hang around the doe at a distance until the mating rut begins from late July to mid August. For the doe it will be a long gestation – with delayed implantation occurring around four months after mating.
The outcome of that long process lies hidden in the lush vegetation – nose twitching ever so slightly, catching invisible scents, ears straining for every sound in this strange new world in which it now finds itself. Like its mother, the fawn's default mode of defence is to sit out the danger undetected if possible. When the doe is confident the threat is past, she will return to feed her fawn. 
Contrary to what many walkers believe when finding such a sight – fawns are never abandoned or lost.
Welcome Visitors
Unperturbed by all the drama, a male redstart – his beautiful colours radiant in the sunshine – flits between branches collecting caterpillars to feed his chicks.  A flycatcher supreme, he darts forward, tail fanned out working the breeze, hovering and dodging here and there with effortless aerial agility as he hunts down flying insects. 
From inside one of many old woodpecker nest holes in a decaying pine tree, his four chicks await in eager anticipation of their next meal. For now at least, they are safe – having escaped the predations of pine marten and woodpecker – the ever present danger to young nestlings.   Soon they will leave the nest and continue to be fed, as they build their strength and hone their survival skills to meet the challenges ahead.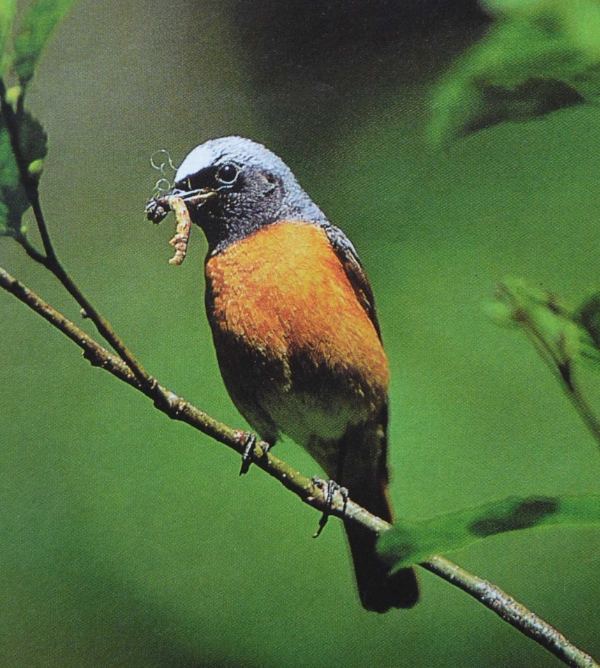 An Uncertain Future
Before the end of summer, the chicks and their parents, driven by diminishing insect abundance and daylight hours, will embark on an epic journey of thousands of miles to Africa, where they will spend the winter. How they know where to go and how they navigate has been the subject of scientific research for decades. It's now thought that they use the stars, landscapes and the Earth's magnetic fields amongst other methods. Such are their navigational skills, the chicks born in this nest may return to this very woodland next year to find their parents using the same nest hole. 
However, their world is changing fast and it is unclear just how long these beautiful birds will grace us with their presence. Like most of our summer migrants, their wintering grounds are under constant pressure from human expansion and global warming impacts. Each spring those that manage to make the perilous journey to breed here find an ever-diminishing insect population with each passing year – currently plummeting by around 2.5% of insect biomass (living weight) per year.
Global warming also influences the timing of arrival of summer migrants and the hatching of their insect prey. Many migrants are now arriving a week or more earlier than they did in the 1960s, while their invertebrate prey are often hatching even earlier. This "phenological mismatch' as it's called can negatively influence the breeding success rate of some bird species, although migratory birds have resilience built into their DNA and will always adapt their behaviour to optimise their access to food availability, whether during breeding or non-breeding periods.
However, it may well be how we define our relationship with our insect neighbours that ultimately decides the fate of the redstart – and our own!