He instinctively crouches as his eyes detect something out of place in the mosaic of colours and tones in the foreground – the dark triangular tip of a fox's ear – just visible through the vegetation. Knowing how acute their senses are, he pauses and considers his next move, knowing everything could depend upon it. The ear flickers, teasing him to edge forward a little nearer. His meticulous planning and careful approach almost giving way to the impetuosity of youth, as he slips carefully behind the screening of the log. As anticipated, the wind favours him, carrying his scent away from the earth. The boy's presence goes un-noticed by the fox cubs playing only a few feet away from him, as he settles down to enjoy the fruits of his efforts. An intimate engagement with nature that will be imprinted for life.
Around 1790 the Gaelic poet Duncan Ban MacIntyre wrote his Oran nam Balgairean (Song of the foxes):

"My blessing be upon the foxes, for they hunt the sheep-
The sheep with their brockle faces that have made confusion in all the world,
Turning our country to desert and putting up the rents of our land……..
The cubs, if they had what I wish them,
Short lives were not their care.
Good luck to them, say I, and may they never die but of old age."
Needless to say his words would be unwelcome in modern day Scotland where sheep farming is a way of life for many. However, the "sheep-wrecked" hillsides are still with us, as are the foxes and in much greater numbers than in MacIntyre's day, despite the relentless persecution of foxes by an army of gamekeepers and landowners. So much so, that a person is more likely to meet a fox in suburbia than in the countryside. Indeed many urban foxes are actively fed by their human admirers.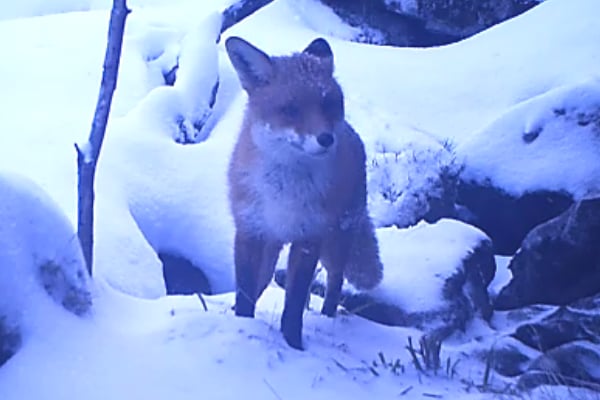 The January to March mating period is when foxes are most vocal. This is when the triple bark of the dog fox and the cry of the vixen can be heard after dusk. The cubs, usually 4 to 6, are born 51 or 52 days later, usually in an underground fox earth. The vixen will dig out several of these den sites before choosing one and will readily move the cubs to a safe den if she is disturbed. May is generally a good month to view fox cubs sitting out at the den entrance. Any time of day is good although early evenings are usually best.
Foxes are unequivocally the forester's friend, as they predate heavily upon field voles and rabbits, both of which are responsible for ring barking and killing thousands of trees a year at great financial cost. Northern and upland hill foxes tend to be larger and heavier than urban foxes, with the larger body mass retaining heat better.
The management of fox populations is an emotive subject for many people, with even the RSPB recently coming under heavy criticism for carrying out fox control to protect breeding bird population such as curlew.
The fox has no natural predators in Britain, although there are increasing calls for Scotland to join the ranks of many other European countries and reintroduce the Lynx to help restore ecological equilibrium to our much denuded forests. This once native cat has been found to reduce fox populations by up to 50% in some areas of Europe.
Few animals have shown more capacity for resilience and adaptation than the fox. Perhaps that alone is worthy of our respect.