The bee – a tree bumble bee – soon begins lapping at the honey with its long tongue. He smiles – the man that is! – at the irony of the moment, as he ponders what universal forces conspired to bring about this unexpected meeting. His joy however is short-lived, as the immensity of the moment envelops him.Realised now – the innocent action of standing on the unsuspecting bee, now symbolic of the unrelenting destruction of nature under the trampling foot of humanity.
"I'm sorry! I'm sorry we never lived up to our end of the deal. I'm sorry we are still taking everything and giving nothing back. I'm sorry we never listened soon enough when you called out for help. I suppose you'll tell me the answer to our problems was right under our feet – eh!"- half expecting the bee to buzz loudly in agreement. "You deserve better from us. We can be better – we will be better – I promise you!"
"I just hope we're not too late to save us both"he murmurs softly to himself, watching the now re-energised bee fly away.
Insect apocalypse
It is impossible to over-exaggerate the impact on humanity if this global "insect apocalypse", as it's been termed, continues un-checked. Although we have known for decades of the insect declines, alarm bells started ringing in 2017 after long-term scientific research carried out in Germany found insect Biomass (living weight) of flying insects had declined by three quarters over a 27-year period, with numbers still in free fall by 2.5% annually. Studies in other countries have found even steeper declines. The UK has proven to be no exception. Globally we are losing around 250 million tonnes of insects per year. 
Because insects underpin our global ecosystems – the very basis of our life support system – the implications of continued insect declines just don't bear thinking about, not least the cascading effect of ecosystem collapse and vanishing food resources across the planet, and the acceleration of irreversible global warming.
Wild bee pollination alone contributes to around 85% of global crops. Even the humble dung beetles in UK pastures provide a staggering £367M a year in ecosystem services to the cattle industry, ranging from dung recycling, soil improvement and disease prevention, not forgetting carbon sequestration. Yet some dung beetle species are now extinct, with several others on the edge.  
Hidden treasures
Incredibly, WSWG surveys in Taymount Wood recently discovered a species of dung beetle (one of 8 beetle and 6 bee species) found nowhere else in Tayside. Several other species found were only previously recorded in a handful of locations across Scotland. These recent discoveries – which may well be the tip of the iceberg of what lies hidden within Taymount and Five Mile Wood – have re-emphasised the critical need to protect the ecological integrity of the woodlands before these living treasures are lost forever under inappropriate and destructive commercial forestry management, typical with private sector woodland purchases. 
Emergency Action
If successful in the woodland purchase, WSWG aims to implement comprehensive emergency action to establish several Nature Recovery Zones under the woodland management plan, in conjunction with retaining thousands of mature trees to allow the woodlands to function as nature intended. Thus establishing a protected refuge for Biodiversity for future generations.  Further surveys are planned throughout the summer for both woodlands where people can join in and help. No experience is necessary. Dates and arrangements will be announced in due course.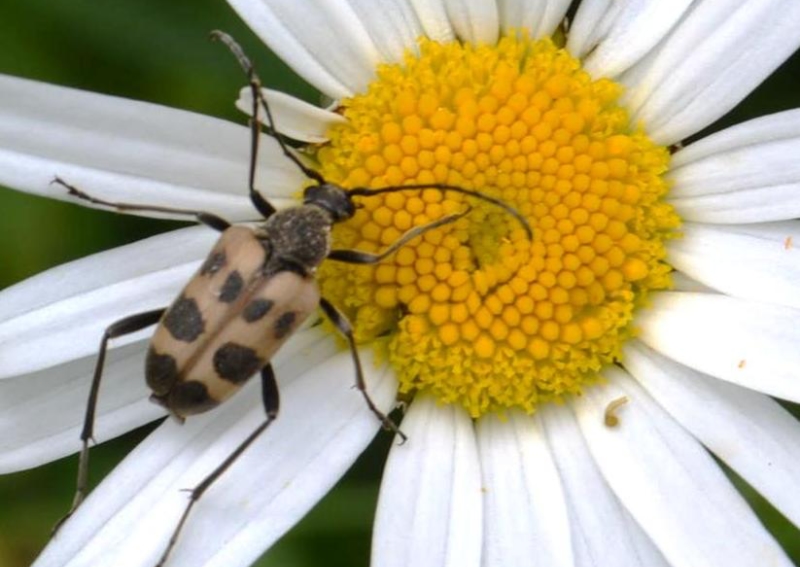 How you can help insects
Ditch the chemicals
Turn off/remove Garden lighting where not needed. Billions of insects die annually from light pollution and it's the easiest pollution to stop. New legislation has been introduced across Europe to limit the power of outside lighting. The UK is dragging its heels on this issue.
Grass lawns are almost devoid of life, cover up to 20% of urban areas and their maintenance is a serious polluter of the environment. Convert lawn where possible and allow diversity. Clover feeds the lawn with nitrogen and bees with nectar.
Welcome Weeds. A weed is simply a plant whose virtues have yet to be realised!  98% of insect herbivores can only feed on a small number of native plants they have evolved with, so diversity is crucial. Dandelions are an important resource for bees in early spring and the seeds are loved by goldfinches. They are also beautiful and listed in the top 10 most nutritious plants on Earth – saving you money. Re-define your relationship with native plants and reap the rewards.
Stop Burning vegetation. The pollution is a serious greenhouse gas. Compost instead and create habitat piles for insects and other wildlife.
Nature Needs Half. No garden is too small to set aside space for nature. Start compost piles/habitat piles, allow patches of grasses, wildflowers, nettles etc to grow and flower. Moth and butterfly caterpillars feed on them, wildlife shelters and overwinters amongst them. Leave a 1m un-cut buffer around trees/shrubs, lamp posts, fence lines, etc when cutting grass. Many insects overwinter in the rough ground below trees. 
Grow your own food. This can not only increase biodiversity in the garden, but also reduces subsidising industrial agriculture – a major threat to life on earth. 
Plant a wildflower meadow – of any size, or simply dig over a patch of grass and allow the wild flowers to regenerate. You'll be amazed at what comes up. Most are also edible and highly nutritious. Size matters – the smallest and unassuming wild flowers attract many rare and beautiful bees and moths. 
Complain to local authorities when they cut green spaces unnecessarily and use toxic chemicals. Protect your local patch.